STRINDBERG VS. YOUSSEF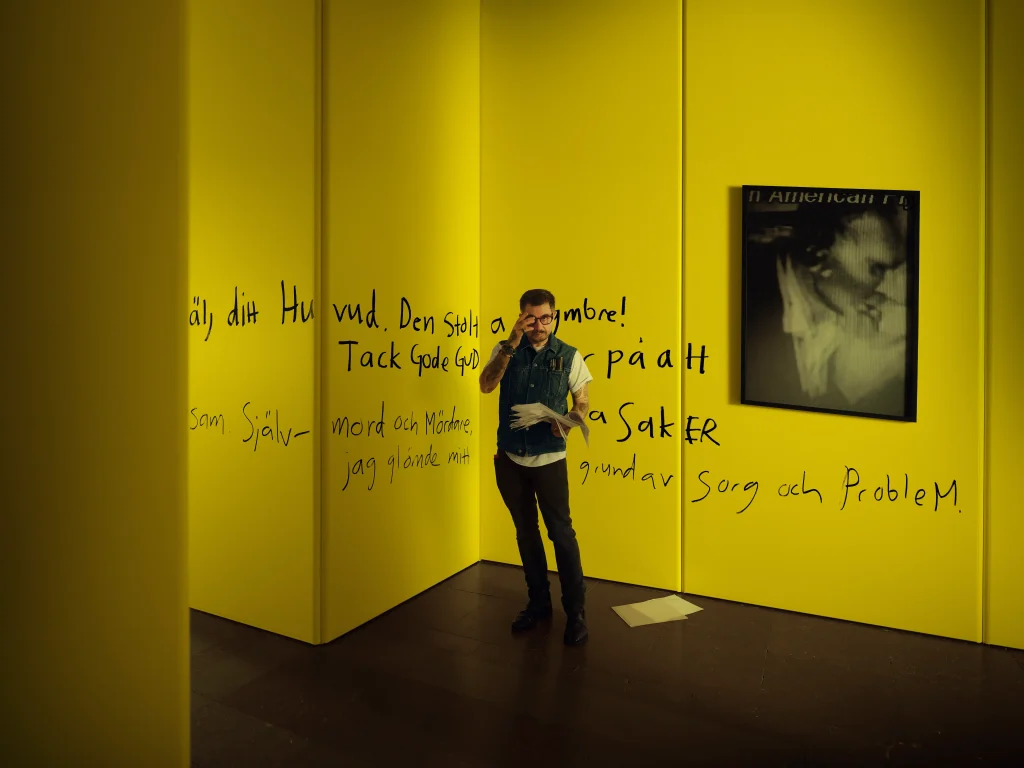 27 Oct 2023 – 31 Dec 2024
Welcome to an exhibition where an iconic object from our collections meets a contemporary artist.
Artist Daniel Youssef draws inspiration from August Strindberg's autobiographical novel Inferno, employing overturned words, paranoid imagery, and neon to stage his text-based artwork alongside one of Strindberg's most iconic paintings, The Wave, housed in the museum's collections.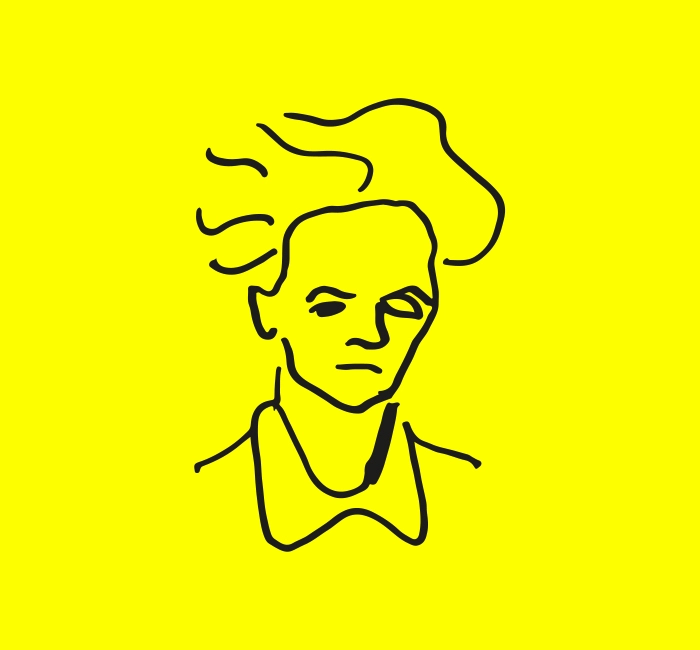 Living in the Spaces Between Languages
Daniel Youssef explores in his work linguistic identity, what occurs in the spaces between languages, and what it means to live within and between multiple languages and cultures.
In his work, he has allowed Google Translate to translate Strindberg's Inferno in the Swedish edition from 1897 – originally written by Strindberg in French – into English, then from English to Arabic, and finally from Arabic back to Swedish. In the translation, Google Translate takes over and lives its own life.
In the exhibition 'Strindberg vs. Youssef,' Daniel Youssef portrays the result – his manuscript – in an infernal, labyrinth with overturned words. Here, you encounter his 2×3 meter neon portrait of August Strindberg and Strindberg's double-sided painting 'THE WAVE VIII' from 1901–1902.
About Daniel Youssef
Daniel Youssef, born in 1975 in Växjö, resides and works in Stockholm. He has previously exhibited at venues including Södertälje Konsthall, Skövde Konsthall, and Arsenalsgatan 3 in Stockholm. Daniel Youssef was recently featured in the group exhibition 'Swedish Ecstasy,' curated by Daniel Birnbaum, at Bozar in Brussels (February 17–May 21, 2023). There, he showcased two new works alongside pieces by artists including August Strindberg.
The language stumbles, fumbles, wanders… (…) we've had to 'tailor-make' our Swedish… with immigrants, we've spoken broken Swedish, while with Swedes, we speak fluently… It's like we've lived a life in the spaces between languages.

Daniel Youssef
Strindberg's Inferno and Occult Diary
In February 1896, August Strindberg begins writing a diary from his hotel room in Paris. He is 47 years old and as a writer, he is both acclaimed and controversial. The diary spans twelve years and reflects Strindberg's existential crisis, his divorce from Harriet Bosse, and interpretations of the supernatural.
In retrospect, Strindberg himself wrote that around 1896, he 'entered a phase, which I called Inferno, during which the book was published in 1897, which became a turning point in my life.' The book he refers to is Inferno, an autobiographical novel that partly draws from the Occult Diary as a source.
Strindberg's Inferno was first published in Swedish in Stockholm in 1897, and the following year, the French original version was published in Paris.
The Occult Diary, the handwritten original diary, is part of Nordiska museet's collections (NMA.0058583).
Strindberg's The Wave
The Wave is a series of oil paintings comprising nine works created between 1892 and 1902. Among these nine, the double-sided version of The Wave is in the museum's collections (NM.0132440).
The double-sided oil painting, The Wave VIII, created between 1901 and 1902, depicts a turbulent sea and a powerful wave painted with a palette knife.
"On the reverse side, there is the oil painting The Wave VI from 1902. The expressively and menacingly rushing wave is a fateful motif with a strong symbolic undertone of death and destruction, a theme Strindberg returned to many times.
The painting has been exhibited previously at venues including the Musée d'Orsay in Paris (2001–2002) and Tate Modern in London (2005). Most recently, it was displayed at the Musée cantonal des Beaux-Arts de Lausanne (2016–2017).
A painting in oil of a wave on a stormy sea. August Strindberg's double-sided painting THE WAVE VIII from 1901–1902, from the collections of Nordiska museet.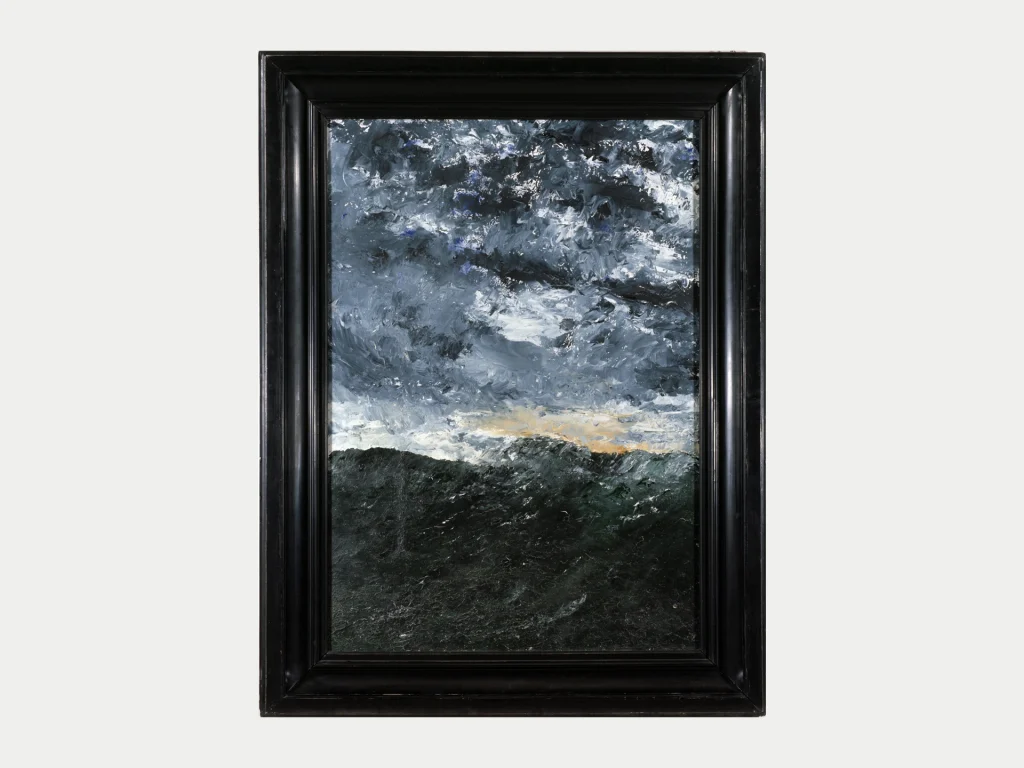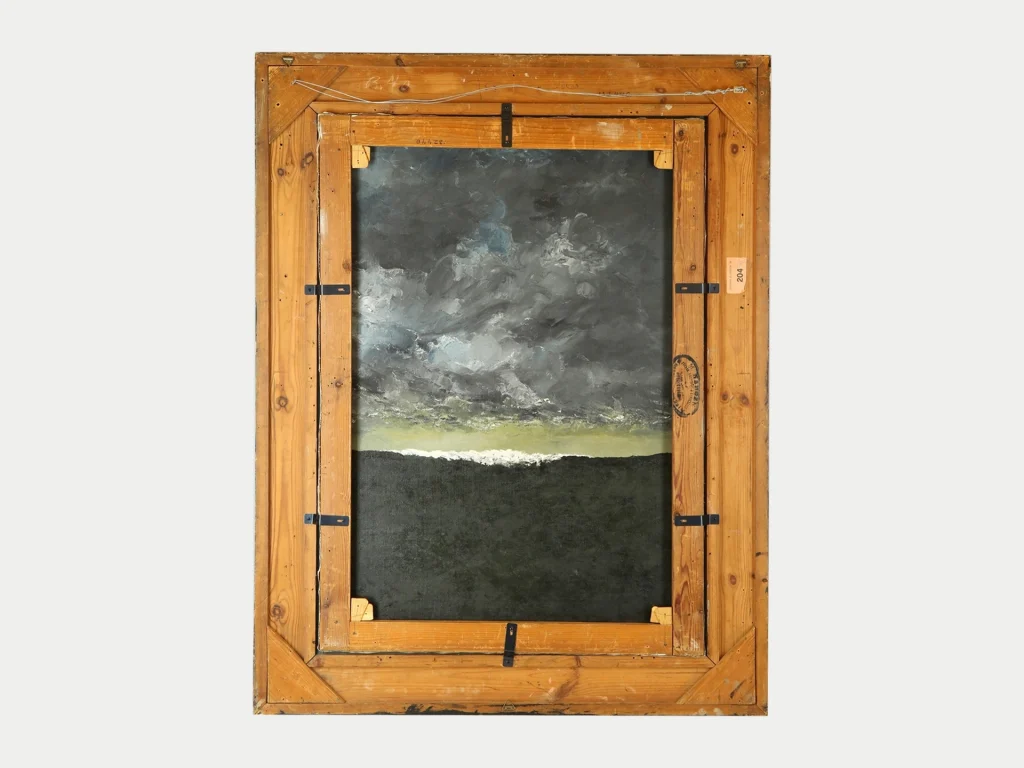 Strindberg and Nordiska museet
Did you know that Swedish novelist, playwright, poet and painter August Strindberg and the founder of Nordiska museet, Artur Hazelius, were good friends? (At least most of the time.)
In the museum's archives, there are correspondences that demonstrate their collaboration and the museum's development. Strindberg was, in fact, one of Hazelius' "acquirers," often suggesting items for Hazelius to include in the collections.
Today, our collections house the largest collection of August Strindberg's paintings, along with a significant portion of the author's furniture, original manuscripts, and library. Strindberg's furniture and library are on display at the Strindberg Museum, and the majority of the manuscripts are at the Royal Library.
Strindberg's The Wave The Wave is a series of oil paintings comprising nine works created between 1892 and 1902. Among these nine, the double-sided version of The Wave is in the museum's collections (NM.0132440).