Visit us
At Nordiska museet you can explore the life of people in Sweden and the Nordic countries from present day and all the way back to the 16th century. Welcome to our iconic museum building on lush Royal Djurgården in central Stockholm.
Opening hours
Open every day
10–17
Archives & library: Wednesdays 12–18
Prices
Admission prices
150 SEK
Free admission for children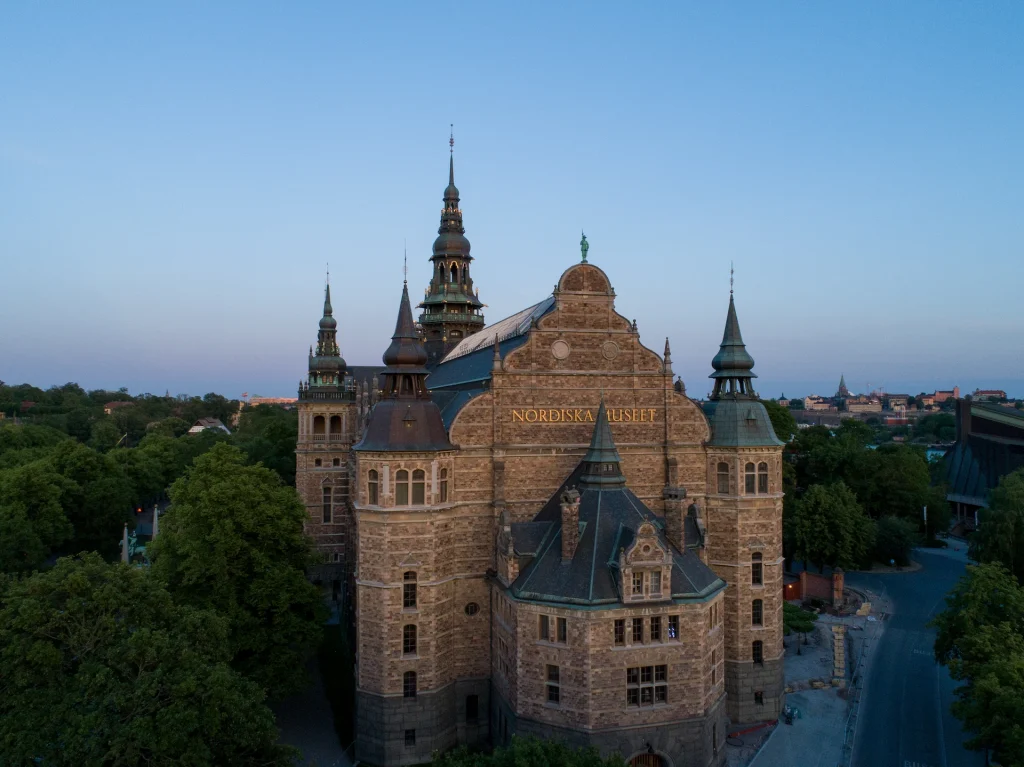 The museum is situated on Royal Djurgården in Stockholm City, on the right side after Djurgården Bridge. You can easily reach us by bus, tram, Djurgården ferry, or bicycle.
Visiting adress: Djurgårdsvägen 6–16.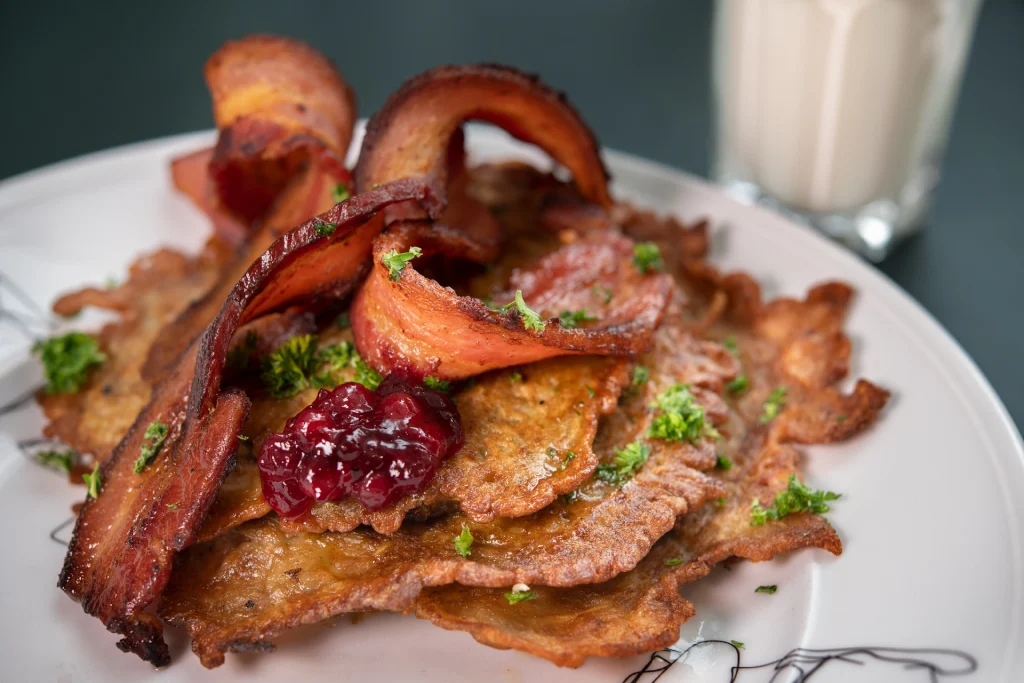 Restaurant and café

The restaurant in the Great Hall serves beverages, hot food, and Swedish treats like "kanelbullar" and "chokladbollar" from our bakery. Our popular lunch is served 11 am–3 pm. We always have at least four dishes on the menu. We offer vegetarian, lactose-free, and gluten-free options. For the children, we have Swedish meatballs and pancakes with jam and whipped cream.
In a small brick house in our backyard, you'll find Café Lusknäppen. Here, you can enjoy salads, sandwiches, coffee, pastries, and ice cream.
You can also enjoy a glass of wine or beer in the café and restaurant.
Check out our restaurant and café
Picnic tables

You are welcome to bring your own food and beverage to our picnic tables. You will find them in the Great hall, microwave ovens are available. There are also picnic tables outdoors in our backyard (no microwave ovens available).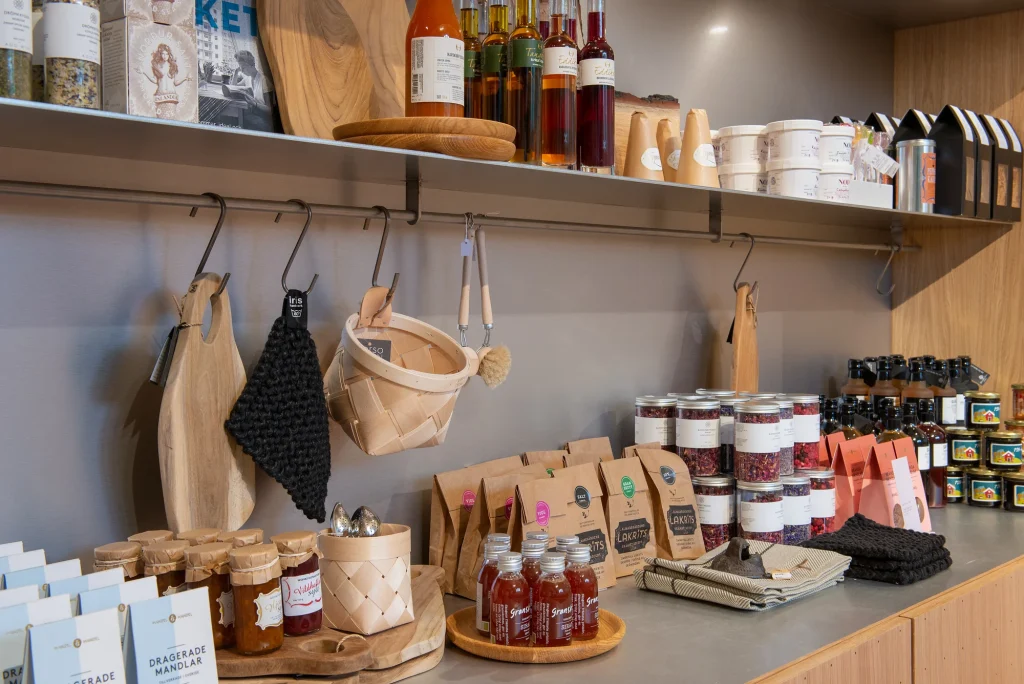 Crafts, classic Nordic children's books, vintage items, apple juice and marmalades! Our museum shop offers a unique range of favorites and exciting new items from the Nordic region. Come by if you want to treat yourself, find a nice gift or browse our books.
The museum shop is located on Level 1.
FAQ
If you're in a wheelchair or have a stroller

There is an elevator available to the exhibitions.
A ramp is provided for access to the restaurant and some of the exhibitions.
There is an accessible entrance to the right of the museum's main entrance from Djurgårdsvägen at Level 1 and one in the courtyard.
Accessible parking spaces are available at the accessibility entrance at the main entrance on Djurgårdsvägen and at the museum's northern end (towards Strandvägen). There's also a space at the southern end (towards Gröna Lund).
An accessible restroom is located on Level 1, a short distance inside the accessibility entrance, opposite the museum shop. It's accessible from both the right and left sides. Door width is 90 cm.
We have wheelchairs available for loan. Please contact a museum host or the reception.
If you have a disability

The stairs are marked on the bottom and top steps. Handrails are present in many but not all staircases.
You can borrow magnifying glasses and flashlights at the reception.
Assistance dogs and guide dogs are welcome.
Guides or assistants always enter the museum for free.
If you have allergies

There are live plants in the museum's restaurant. On special occasions, there may also be plants in other parts of the museum.
During the construction of exhibitions, there may be dust and strong odours.
On Level 1 you'll find restrooms, changing tables, and wardrobes.
There are free secure lockers on Level 1.
Yes, you can download our audio guide directly to your mobile. Just bring your headphones and press play when you arrive! We have audio guide tracks in multiple languages for both children and adults.
If you prefer, you can also borrow an audio guide on-site in the Great Hall.
Yes, we have free Wi-Fi. The network is NM-Guest.
Admission to the museum is free with these cards:
Stockholm Go City Card
ICOM
ICOMOS
Stockholm Key of Honour
LMA card for asylum seekers
You're welcome to take photos for personal use. We'd be delighted if you'd tag us (@nordiskamuseet) in your photos on social media! Please refrain from using flash or a tripod.
If you're a professional photographer, you'll need our approval to capture images both inside and outside the building. Please get in touch with us at bokning@nordiskamuseet.se.
For press photography inquiries, please get in touch with our press contact.
Only assistance and guide dogs are allowed inside the museum, other dogs have to wait outside.